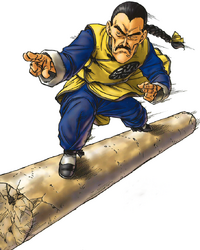 Tao Pai Pai (桃白白) est un tueur à gages. Né en 459. Il mesure 178 cm pour 70 kg. C'est le frère cadet de Tsuru Sennin. Il est réputé pour être le meilleur tueur à gages au monde en 20 ans d'exercice. Formidable expert en arts martiaux, il tue le général Blue d'un coup de langue. Il se rend sur la Terre sacrée de Karin et envoie son gardien Bola dans l'au-delà. Puis, il affronte Son Gokū qu'il croit toucher à mort. Mais c'est Gokū qui se débarrasse de lui après avoir monté la tour Karin et subi l'entraînement à l'aide de la Super Eau Sacrée. Alors que tout le monde le croyait mort, il réapparaît transformé en cyborg lors du 23ème Tenka Ichi Budōkai. Ten Shin Han l'écrase sans effort.
Apparence physique
Edit
Physiquement il ressemble à un vieux martialiste chinois. Il a les cheveux tressés et porte une tunique traditionnelle chinoise. Sur le devant de sa tunique on peut lire le caractère "Satsu" (殺) qui signifie "tuer" et au dos on peut lire "Kill You" ("Je te tue", en anglais).
Signification du nom
Edit
Comme pour concorder avec son image de maître des arts martiaux au style chinois, les kanji de son nom se lisent selon la lecture chinoise ce qui donne "Tao Pai Pai". En réalité son nom se traduit littéralement par "Pêche Blanc Blanc". La seule fantaisie réside en réalité dans sa lecture.
Ad blocker interference detected!
Wikia is a free-to-use site that makes money from advertising. We have a modified experience for viewers using ad blockers

Wikia is not accessible if you've made further modifications. Remove the custom ad blocker rule(s) and the page will load as expected.