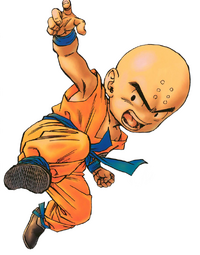 Combattant expert en arts martiaux. Né en 736. Comme il n'a aucun succès auprès des filles il entre au dōjo du temple Ōrin pour y apprendre les arts martiaux. Ne pouvant pas supporter les brimades de ses aînés, il quitte le temple après avoir tenu huit ans. Puis il devient disciple de celui qu'on appelle le dieu des arts martiaux, Kamé Sennin (Muten Rōshi de son vrai nom). Après avoir enduré avec Son Gokū, l'entraînement rigoureux du maître des tortues, il peut participer au Tenka Ichi Budōkai. Peu de temps après la fin de la 22e édition de ce championnat, il est assassiné par Tambourine, un envoyé de Piccolo Daimaō, puis ressuscité par les Dragon Balls. Il part pour Namek affronter les hommes de Freeza, se bat contre Cell, est changé en pierre par Dabra... En bref, Kulilin n'a pas eu une vie de tout repos. Il se marie avec N°18, un de ces anciens adversaires, avec qui il a eu une petite fille, Marlone.
Il a une tête de bonze et pas de nez. C'est le meilleur ami de Son Gokū et un frère d'arme qui combat de nombreuses fois à ses côtés. Quand il apparaît la première fois c'est un adolescent au caractère revêche, mais l'entraînement de Muten Rōshi et la vie passée aux côtés de Gokū l'aideront à devenir plus sage. Cependant son penchant un peu obsédé est développé sous l'influence de Kamé Sennin.
Ad blocker interference detected!
Wikia is a free-to-use site that makes money from advertising. We have a modified experience for viewers using ad blockers

Wikia is not accessible if you've made further modifications. Remove the custom ad blocker rule(s) and the page will load as expected.