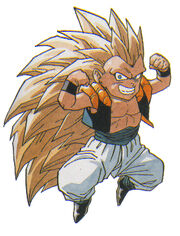 Gotenks (ゴテンクス, Gotenkusu) est un personnage issu de la fusion entre Son Goten et Trunks. Afin d'affronter Majin Buu sûr de sa puissance, Son Gokū enseigna en dernier recours la fusion à Trunks et Son Goten, qui, une fois réalisée donnerai naissance à Gotenks. Les deux garçons essuyèrent de nombreux échecs dans leurs tentatives avant d'y parvenir. Goten et Trunks entrèrent alors dans la salle de l'Esprit et du Temps et effectuèrent un entraînement intensif. Le résultat fut probant puisque Gotenks peut supporter le niveau 3 du stade de Super Saiyajin. Malheureusement il fut malmené par Majin Buu, qui avait absorbé son bon côté pour accroître d'avantage sa puissance.
Au début, ne sachant pas comment nommer ce personnage fusionné, Piccolo le nomme "Trunkten" par erreur. Mais le principal concerné préfère être appelé "Gotenks", qui est la contraction de "Goten" et "Trunks".
Apparence physique
Edit
Il a plutôt la couleur des cheveux de Son Goten et sensiblement le même visage que Trunks. Il n'a pris que les mauvais côtés des caractères des deux garçons et son air impétueux et à la limite du supportable. Gotenks peut aussi devenir Super Saiyajin, et il est le seul excepté Son Gokū, qui puisse se transformer en Super Saiyajin de niveau 3. A ce stade, ses cheveux deviennent alors très longs et il perd ses sourcils.
Ad blocker interference detected!
Wikia is a free-to-use site that makes money from advertising. We have a modified experience for viewers using ad blockers

Wikia is not accessible if you've made further modifications. Remove the custom ad blocker rule(s) and the page will load as expected.