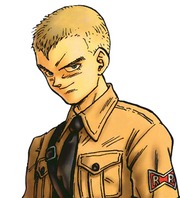 Le général Blue (ブルー将軍, Burū Shōgun) est un officier de l'armée du Red Ribbon, né en 722. Sa passion : Le Karaoké. Il mesure 181 cm pour 68 kg. En 750, il est assasiné par Tao Pai Pai sur ordre du général des armées Red pour avoir échoué dans sa mission. Il dirigea les recherches du Dragon Ball situé près de Kamé House. C'est un homme bien bâti, expert en kenpo, le genre d'homme qui ravit les filles comme Bulma, mais malheuresement pour elle, le général Blue est un homosexuel doublé d'un narcissique. Amoureux de belles choses, il deteste la saleté par-dessus tout.
Apparence physique
Edit
Le général Blue est un homme blond aux yeux bleus, plutôt grand et musclé, habillé comme un officier allemand de la seconde guerre mondiale. Ce n'est pas un hasard si toute sa troupe porte des uniformes semblables aux S.S. L'auteur étant fan de modélisme et plus particulièrement tout ce qui touche les véhicules de guerre, il s'est amusé à tourner cette armée qui voulait dominer le monde en ridicule à travers cette référence.
Signification du nom :
Edit
"Blue" signifie "Bleu" en anglais.
Ad blocker interference detected!
Wikia is a free-to-use site that makes money from advertising. We have a modified experience for viewers using ad blockers

Wikia is not accessible if you've made further modifications. Remove the custom ad blocker rule(s) and the page will load as expected.