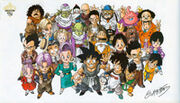 Les dossiers des personnages vous permettront de connaître de A à Z tout ce qu'il y a à savoir autour des personnages principaux de Dragon Ball. D'avantage que la partie "
personnages
" (issue du data book Dragon Ball Daizenshū 7 : Daijiten) cette partie est consacrée à tout ce qui entoure chaque personnage, du manga à l'anime en passant par les jeux vidéo. Une vraie bible pour qui veut tout savoir sur les personnages de l'œuvre de Toriyama-sensei.
Les personnages seront classés par catégories et par ordre d'importance dans le manga, l'anime et les jeux Dragon Ball. Le premier dossier disponible est celui de Trunks du futur (séparé de son alter ego du présent pour exploiter au mieux toutes les informations relatives à celui-ci, les fans apprécieront), les autres suivront prochainement.
Pages in category "Personnages"
Media in category "Category:Personnages"
Ad blocker interference detected!
Wikia is a free-to-use site that makes money from advertising. We have a modified experience for viewers using ad blockers

Wikia is not accessible if you've made further modifications. Remove the custom ad blocker rule(s) and the page will load as expected.